Marshall & Sterling - John "Jake" Behuniak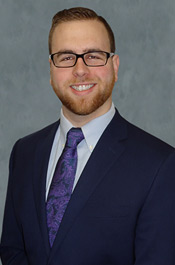 Marshall & Sterling
John "Jake" Behuniak
Partner
p. 518.943.3900 ext.1068
f. 518.943.7440
email. jbehuniak@marshallsterling.com
web: www.marshallsterling.com/leeds
Jake has been a student of insurance since 2012. He has obtained a Bachelor of Science degree in Risk Management and Insurance from Oswego State University. While at Oswego, Jake was the recipient of the Insurance Superintendent William Barnes Risk Management scholarship. He had prior experience in insurance claims before he made the move working for an independent agency.
Prior to joining Marshall & Sterling, Jake worked for a large national carrier as a personal automobile claims adjuster. His primary focus in his previous position was investigating claims and delivering a positive customer experience on a daily basis. Jake then moved on to obtain his New York Brokers License for Property & Casualty so that he could shift his focus to client-based problems and needs.
Jake resides in Saratoga Springs, NY and spends a lot of time volunteering with the Saratoga County Chamber of Commerce. He is a recent graduate of the Leadership Saratoga program through the chamber. He also serves on the board for Wellspring, a local non profit agency.